Lianne: I had planned my new project in detail, drawing on my training in visual and feminist theory before reading about auto-ethnographic research methods, the gender politics of bodybuilding competitions, and phenomenological theory. Yet I did not become a future figure competitor until October 18, 2010. That is when I entered a small, dimly-lit consultation room with my current personal trainer, Audrey Shepherd, and removed my workout pants and t-shirt to reveal a pink 1950s bathing suit. Standing awkwardly against a cold wall, I handed Audrey my camera and she took pictures of me from the front, back, and both sides. I did not flex, pose, or try to suck in my gut. I was not tanned or wearing make-up and my hair was not done. The resulting pictures are hardly flattering, and lack any contextual markers, except for the weigh scale beside me, a potentially ironic allusion to the fat-loss diet program I would start three months later. Although this photographic event was in many ways banal, it conferred my identity as someone in training for a figure contest. Like traditional bodybuilders, "figure girls" lift weights and are judged on the symmetry, proportion, and definition of their muscles. "Excessive muscularity" is nevertheless considered undesirable, and the ideal figure competitor must display a shapely "feminine" form, complete with a small waist and curvaceous legs. In October I moved closer to this ideal by disrobing and posing as a body both deserving of and desiring scrutiny. This photographic act was a disciplinary exercise that positioned me as an object waiting to be compared and contrasted with other bodies, recalling art historian John Tagg's arguments about nineteenth-century photography as a state apparatus that participated in producing regimes of truth able to hold citizens in place. By submitting to these "before" photographs, I opened my body to the application of rules and regulations, while requiring viewers to look at me in a judgmental way. At the same time, the pictures were made within an atmosphere of trust, initially viewed only by myself and Audrey, creating an intimate bond between us.
Lianne: I engaged in every activity necessary to succeed in a local figure competition, from consistent dieting to eating meat, ingesting supplements, and tanning—all were new to me. I looked forward to increasing my existing muscle mass, but dreaded learning how to perform the mandatory poses, walk in four-inch heels, and apply make-up to my increasingly wrinkled face. In the process I learned many unexpected things, including the fact that becoming a figure girl was intensively collaborative, involving such professionals as personal trainers, diet coaches, costume makers, and artists. In March of 2011, three months before the competition, Patrick J. Reed, an artist and designer, headed to my gym to photograph one of my weight training sessions with Audrey. "After the first few minutes, you won't even know that I am there," he promised. He was right. A consummate professional, Patrick knew exactly how to make himself practically invisible, working around the awkward space of the commercial gym to capture the interactions between me and my trainer. Many of the resulting photographs portray the construction of my figure girl body as an arduous procedure involving ongoing assistance and care. In one striking image, Audrey stands behind me as I perform lat pull downs—the latissimus dorsi muscles of figure girls are ideally wide, helping to accentuate a small waist. My trainer is shown in a supporting role, positioned as a key figure overseeing my controlled activities. In contrast to her attentive looking at my back muscles, the bar of the weight machine covers my eyes. This particular pose suggests my intense focus on the exercise undertaken rather than the world around me. My looking has been replaced by that of Audrey, reinforcing the idea that we are working together to shape a new image of my body. Patrick takes the place of the viewer, standing apart from the central dyad yet close enough to frame the scene tightly, a decision that enhances the intimacy of the pair absorbed in work, while highlighting the constraining exercise technologies that hold me in place, isolating my back muscles. The resulting image breaks from conventional training pictorials, which often show such bodybuilders as Ms. Olympia Iris Kyle alone, working toward a distant goal with little encouragement. Another commonplace depiction of working out in gyms features group dynamics; consider the film Pumping Iron II, which portrays heavyweight bodybuilder Bev Francis being treated like "one of the boys" by her male coach as he loudly demands that she lift heavier and push out more reps. In contrast to these representations of intensive action, the photograph produced by Patrick offers a vision of training as a quiet, caring, and methodical practice, based on mutual trust.
Patrick: After the first few minutes no one even knew I was there. This pleased me considering I was in "the gym," an arena that thrives on observation and functions with unspoken codes of conduct. Before my arrival I had only a skeletal understanding of what to expect, but I knew it was imperative that I not disrupt the sensitive ecology of the fitness environment. This endeavour proved more difficult than anticipated as I found myself in a room full of mirrors. Lianne had said that the gym was "all about looking," and I immediately realized this was an understatement. Entire lengths of wall, latitude and longitude, were covered in flat reflection. It was a space constructed for looking and seeing. As a photographer, the situation was logistically problematic for obvious reasons. The solution was close proximity. As Lianne became increasingly focused on her routine, I was able to encroach incrementally closer. I concentrated on anatomy, weight machines, and most importantly facial expressions. I recognized a prevalence of fragmentation in behaviour and environment. The gym is indeed all about looking; however, that looking is not always panoptic surveillance but includes an extreme focus on specifics: isolated muscle training, single-channel mindset, the strategic, space-altering placement of mirrors. Unflattering as it is, this image best conveys the idea of a calculated fragmentation, an idea I consider analogous to the rending of muscle tissue, the desired result of both being strength and solidity acquired through controlled disassembly and repair. Lianne's expression is clearly one of discomfort. Her composure is unstable and her features are in disarray indicating the combination of will power and pain she is experiencing. This is a portrait of a metamorphosing visage that stands in striking contrast to what it will become.
Patrick: Lianne's decision to become a figure competitor involved far more than the simple adoption of a diet or exercise plan. It was a complete lifestyle overhaul characterized by regimentation that pervaded all aspects of her existence. Everything she did had to serve a purpose and contribute to the development of her body. It was a schedule and data oriented existence that became increasingly demanding as the competition date neared. Every Sunday she would cook all of her food for the upcoming week. What initially appeared to be a feast of the highest nutrition soon became reduced to a series of prefabricated meals. These portions of undressed vegetables and meat were divided, weighed, and sealed in plastic containers. Pictured here is a week's worth of sustenance, accumulating condensation and stacked like a housing project on the bottom shelf of Lianne's vacuous refrigerator.
Lianne: Patrick joined me in my own condo as I prepared meals by cooking and weighing precise amounts of food. The images produced show the domestic labour of competing, highlighting the routine chores that getting on stage necessitates. More importantly, the pictures associate the appearance of my flesh with the consumption of particular kinds of food. I find especially effective the representation of my truncated arm hovering over a stovetop complete with pots of cooking Brussels sprouts, asparagus, and a tray of roasted sweet potatoes. The vascularity (prominent veins) in my arm, enhanced by the low level of subcutaneous fat in my body, is shown in a contiguous relationship with the fibrous vegetables, drawing an association of causality between them.
Lianne: Patrick also accompanied me to a posing session with Raejha Douziech, a professional bodybuilder and figure competitor who was hired as both my diet and posing coach. The resulting images again portray my reliance on experts, while also showing the tedious kind of labour involved in preparing for a figure competition, unknown to most outsiders, and invisible in the more overtly posed pictures on stage. I like this photograph because it represents my awkward efforts to resemble another body and strike poses that are in no way natural. It depicts me as a novice, actively engaged in learning from someone with more experience as I struggle to enact a new role. I also appreciate how the picture features references to place, including such details as boxes, plants, and a desk. Portrayed as anything but glamourous, my pre-competition regime is firmly situated within the world of everyday labour, shown as comparable to mundane office work.
Patrick: The night before the competition Lianne had to be tanned. Standing nearly naked in a small bathroom, her friend Gill Kovack, a professional heavyweight bodybuilder, basted her with a rue colored liquid intended to heighten the appearance of muscular definition. For three hours I crouched in the bathtub while she underwent a process of radical stylization. The intensity of the situation was heightened by the lurid, hot light of an industrial shop lamp that viciously blasted the scene from a low angle. Anticipating the searing brightness of the stage, a sense of raw exposure and inescapable scrutiny was undeniable. Perhaps this tension would have slightly abated had the liquid tanner not been so sloppy. Concerned for the integrity of the expensive French manicure she had received earlier that day, Lianne decided to clean her hands. At this point we discovered the dye was highly water soluble. Raising hands to hair, pigmented water ran down her arms in streaking rivulets. All things ceased as we were filled with abject horror. Gill's speedy touch-up job did little to mitigate my distress following the skin-melting illusion. I thought: what if it rains? What if Lianne gets too sweaty? What if Lianne encounters… any number of wet things?! I believe this volatile moment disturbed me because I became fully aware of my deep attachment to her endeavour. On the eve of the competition, I had glimpsed the possibility of a disqualifying nightmare and the ease with which it occurred.
Lianne: In my opinion, arguably the most feminist images formed from my research were of me being "painted," that is, slathered in tanning dye, the night before my competition. My friend assisted me with the process, just as I had helped her prepare for her own show more than a year earlier. The messy application of dark body paint took place in a small bathroom in my condo, forcing Patrick to perch inside the bathtub to achieve the various shots of Gill and I at work. I hesitated before including this picture in this publication, for I feared that viewers might sexualize the image, or cast judgment on it, responses at odds with my view of it as portraying a scene of feminist community and support. In the end, however, I decided to include what is for me a touching scene of vulnerability and exposure, realizing that I cannot hope to control the interpretation of this or other images stemming from the Feminist Figure Girl project.
Lianne: The days preceding my competition were packed with increasingly exhausting preparations, including dehydration and fat loading rituals. Patrick continued to portray both the banal aspects and embodied nature of these experiences, including one striking image of me sewing snaps into my posing suit the night before my show. Although I had selected and ordered my suit months earlier, it arrived at the last minute, delayed by American customs agents and an impending strike by Canada Post. I was forced to draw on my minimal sewing talents to alter it on my own. The photograph produced by Patrick shows me seated on my couch, wearing a hideous pink housedress to protect my furnishings from the tanning dye applied to my body. My vascular hands, resembling those of an elderly woman, struggle with the needle and thread. The dowdy and aged figure portrayed in this image contrasts with the expensive crystal-encrusted bikini that I am in the process of fashioning. By condensing and thwarting the typical before and after pictures, this photograph indicates that attire is among the most important parts of posing as a figure girl.
Patrick: The next morning it was back to the minutiae. After only three hours of weak sleep, I joined Lianne (who didn't sleep at all) at the hair salon. Slumped in the stylist's chair, the casual sportiness of her zip-up tracksuit clashed with the tight and tawny body inside. While Lianne dryly masticated small chunks of sirloin and macadamia nuts, Toccara Winterhawk, the pert hair stylist set into motion the final meticulous processes of the transformation. Energetic as dawn itself, she deftly added layer upon layer of hair extensions to the scalp before her. The sheer amount of disembodied locks waiting to be grafted resembled the golden fleece in both colour and quantity. Minutes passed and the hair got big. Televangelist big. Baroque. Never had I seen ornamentation possess such dead seriousness. We had reached the point of no return. In a matter of a few hours Lianne would be on stage showcasing everything under wild inspection. There was no stopping. It was a heavy moment…hair included.
Patrick: The image I find most striking is perhaps the least sensational. This confrontational portrait was taken but moments before we travelled to the competition venue where Lianne would disappear into the backstage interzone where none could follow. A grand and anxious moment, I saw before me a figure resplendent and otherworldly. The months of rigour, pain, and exhaustion were translated into power, strength, and iron-fisted grace. We arrived at the competition venue to a scene of muscle mayhem. Dozens of other bodies that had undergone similar experiences of rigour moved through the space like spectres. Strong yet liminal, their faces registered focus or distance or both. Confined by ethics regulations to photographing Lianne only, I was unable to document her departure through the crowd into the restricted pre-staging area, but I clearly remember her moving away unphased by the surrounding commotion. Despite this display of confidence, my heart was in my throat. I would not see her again until she took the stage and seized her moment as the Feminist Figure Girl.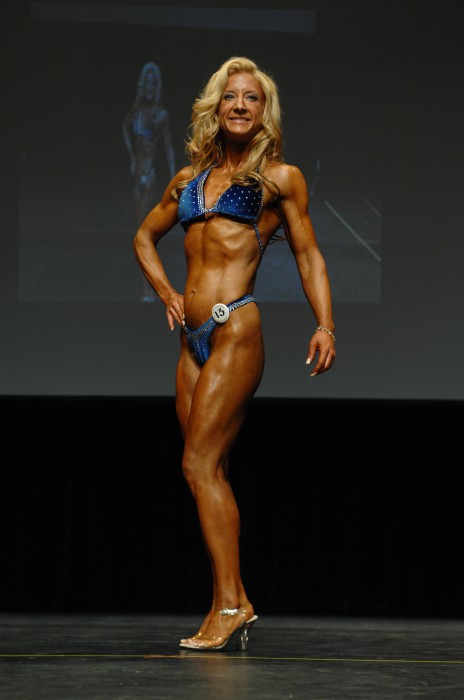 ---